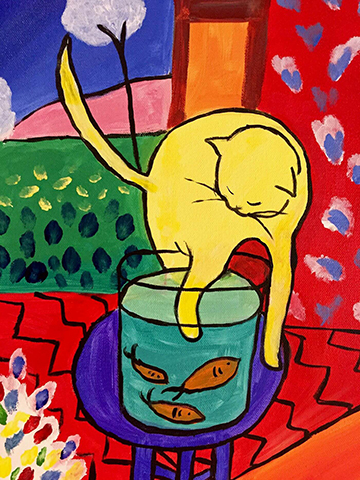 2023 Art Scholarship Winners

Austin Ava

Castaneda Gabriela

Cucina J

Dwenger Jennifer

Freeman Amy

Garcia Lauren

Guido Victoria

Guzman David

Hilton Meredith

Jimenez Cruz Rachel

Lounibos Hartard Amaya

Mcginnis Laura

Moor Grace

Orosco Daniela

Woolsey Scarlett

Sketchbook Award Winner

Christensen Mary Ryan

The scholarship office will review the award's final qualification and contact you to send prizes to you.
If you have questions about scholarships, click here for the SRJC Scholarship FAQs.
 

Spring 2023 Art Scholarships

For the 2022-2023 academic year, students who would like to apply for art scholarships must complete the general scholarship application on the SRJC Scholarships website through AwardSpring. Completing the general scholarship application will also show students if they are eligible for additional campus wide scholarships, as well as art scholarships. 

In addition to filling out the general scholarship application from on AwardSpring, art scholarships require a portfolio review of the work. Students will be required to upload photographs of their art for portfolio review. 

Please review the following guidelines to confirm eligibility:

Art Department Scholarships Application Requirements  

To be considered for an ART DEPARTMENT Scholarship, students must: 

Complete the AwardSpring scholarship application and submit the portfolio to the Art department.
Be currently enrolled in 6+ units at SRJC, and in at least a second semester at SRJC. Some scholarships require registration as full-time students ( 12 units or more). The scholarship office reviews the final qualification for the art scholarship.
Eligibility for the scholarship for continuous students requires registering for the classes in the following fall semester.
Eligibility for the scholarship for transfer students requires providing the acceptance letter from transferring university/college.
Must have completed or currently in the process of completing a minimum of 9 units of art at SRJC.  
6 of the 9 required units must be from the Art Core Curriculum listed below (1 class = 3 units):

Art 1.1 World Art History to 1500  
Art 1.2 World Art History Since 1500 
Art 2.1 History Aesthetic Appreciation of Prehistoric-Gothic Art  
Art 2.2 History and Appreciation of Late Gothic to Impressionist Art  
Art 3 Introduction to Art and Design  
Art 4 Principles of Color 
Art 5 Three Dimensional Design 
Art 7A Drawing and Composition 

Note: Units from other schools may not be applied. 

Students must be undertaking more units at SRJC than at another college, if enrolled at multiple institutions.  
Students who already have a college degree in art are not eligible. 
Minimum GPA of 3.0 or above for transfer students; 2.5 GPA or above for continuing students. 
Those having received two prior awards from the Art Department at SRJC are not eligible. 
Those having received a prior award may receive a reduced amount if selected again. 

Application Process

►►CLICK HERE FOR THE SRJC AWARDSPRING SCHOLARSHIP APPLICATION (used to apply for all art scholarships)

PLEASE NOTE:  Application must be submitted by March 31, 2023.

Complete the following:

Typed statement of intent that includes educational and career goals.   

The statement should be: 

One-page maximum and double-spaced. 
Clear and concise. 

6 to 8 pieces of studio artwork (any media) completed within the last two years uploaded as a digital slideshow PDF.

Each slide should be labeled with the title of the work, year, media, and dimensions. 

For exceptionally intricate work you may include a slide with a close up shot. 

For 3D work you may include multiple images of a single piece rotated. 
Submitted work should reflect the teaching concerns and curriculum of courses the student has taken in the Art Department at SRJC.  Artwork that is client-based or commissioned is ineligible and will not be considered. 
Artist portfolio must be submitted by April 7, 2023 to Scholarship Canvas Course.

Transcripts of all units completed at SRJC and any other colleges attended. Either unofficial or official transcripts are acceptable. Transfer students are required to provide official verification of enrollment from the school they will be attending in order to receive their award money.  Upload your transcript and courses in progress to AwardSpring.
Printout from the Student Portal showing all work in progress (6 units or more at SRJC). 

Sketchbook Award

In addition to the above items, students may submit a sketchbook consisting of a minimum of 30 pages in order to be considered for this special award.   

Sketches, in any medium, should be done in the last two years, but not necessarily in class.   
Work reflecting a strong personal direction is preferred.   
A portfolio is not required for the Sketchbook Award. 

 
2023 Art Scholarship Timeline
Friday, March 31, 2023
Submit completed application through Award Spring. 
Thursday, April 7, 2023
Upload portfolio to Scholarship Canvas Course.
Date to be announced:
Names of the 2023 Art Scholarship recipients will be posted on this page.The scholarship office will review the final recipient of the scholarship by the end of June and contact you for the sending scholarship money. Contact the scholarship office if you have any questions.
We Thank You!
The Art Department wishes to thank the individuals and groups for their generous support of the following scholarships.
Elizabeth Quandt Art Prize
Paul and Lucile Kelly Fund
Patricia Maggiora Memorial
Marjorie Kerr-Schaffer Memorial
Friends of Elizabeth Fay Evans- E.F. Evans Memorial
Charles and Anna Chemey Memorial
Mr. R.G. Biagi - Christine Biagi Memorial
Mildred L. Norton Memorial
Kay French Memorial
The Artist's Round Table
Bodega Bay Allied Arts
Petaluma Art Association
Alice Streeter Kellar Art
Cupric Fund for the Arts
Watercolor Artists of Sonoma County
Grace Comstock Van Zee Memorial
Rebecca and Al Worden Memorial
Lebaron Photography
Riley Street Art Supplies
Eva Martinelli Family Memorial
Oakmont Art Association
Bev Neiger Art
Maurice Lapp Memorial
*Others wishing to contribute to the Art Scholarship Fund may contact the SRJC Foundation by calling 707-527-4348
Image: "Le Chat Aux Poissons Rouge" by Henri Matisse